May 2018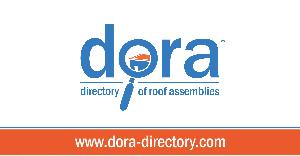 It's challenging to specify the right materials and assemblies for a commercial roof system to satisfy a building's specific performance and safety requirements. Even with design considerations in place, existing resources for finding applicable roof assemblies are limited in scope and can feel disconnected from the supplier companies. These fundamental challenges gave way to a large initiative from the Single Ply Roofing Industry (SPRI) to create a solution to empower manufacturers, consultants, architects, building owners, and code officials with a better way.
The Directory of Roof Assemblies (DORA) (www.dora-directory.com) is a web application database of low slope roof systems tested in accordance with standards referenced in Chapter 15 of the International Building Code (IBC). Sponsored by SPRI and administered by Intertek, this service lists wind uplift load capacity on single ply and modified bitumen roof systems. DORA's scope includes concrete, steel, wood, gypsum, cementitious fiber, and panelized concrete roof decks. Pairing the latest advancements in user-friendly searching technology, with no charge to the public, DORA is a convenient and comprehensive solution.
DORA works through the voluntary participation of industry companies. All roof assemblies are submitted by participating companies and are accompanied by qualified supporting documentation. All submissions of tested and validated assemblies are reviewed and verified. The public may search for an approved assembly using a variety of parametric searching, such as wind uplift, deck type, listing owner, roof application, covering material, securement methods, specific products and attributes. Like modern consumer product databases, the search results may be further refined on the fly using faceted searching. DORA listings are comprehensive in detail and may be viewed, downloaded, printed, and favorited.
Additional benefits to DORA include reporting of actual tested wind uplift load capacity, as the IBC doesn't include what has become industry standard safety factors in the requirements. Furthermore, as an industry-lead program, DORA is available to any company to participate. As manufacturers routinely test their roof assemblies at a variety of accredited laboratories, DORA allows supporting documentation from any qualified accredited laboratory or certification body. DORA is a highly expandable platform. Future plans for DORA include fire and impact ratings, perimeter edge metal and other low-slope accessories, and additional roof types beyond single ply and modified bitumen systems.
SPRI is a collection of commercial roofing industry experts dedicated to providing an open forum for discussion, education, and innovation. DORA was developed through a consensus approach and SPRI is responsible for the establishment of the program's policies and procedures. SPRI selected Intertek, a global provider of product testing, certification, and quality assurance solutions to build and administer the program.