This April 17, 2018, at the Crowne Plaza in Warwick, RI, SPRI held its quarterly meetings with a packed schedule and an engaged group of SPRI members and guests. A few new Task Force meetings were held including: Revision of WD-1 lead by elected Chair Joe Malpezzi of Carlisle Construction Materials, Revision of RP-4 lead by Mike Hubbard of Firestone Building Products (on behalf of Todd Taykowksi of Firestone Building Products), and the MCA Standard Development lead by Bob LeClare of ATAS International and SPRI guest, Scott Kriner of the Metal Construction Association. For a list of all current SPRI's task force groups and their objectives, click here.
The Tuesday evening speaker, Laverne Dalgleish, Executive Director of the Air Barrier Association of America (ABAA) presented "Don't Forget the Roof," and lead a discussion on the role of an air barrier in a roof assembly.
Also in attendance was Ruckus, SPRI's four-legged friend who stole the crowd's attention, as always.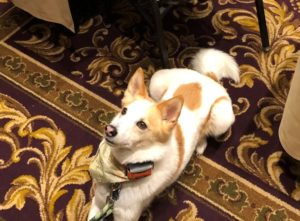 After a full day of meetings, everyone gathered for dinner and excitement at the Shogun Hibachi Grill down the street. Attendees left full and entertained!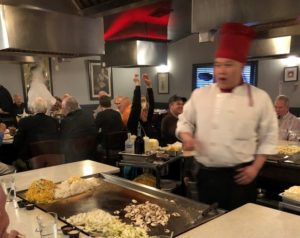 SPRI's quarterly meetings are held in April, July, and October. The first day of the meeting (typically Tuesday) include task force meetings followed by a speaker and group dinner. The Board of Directors Meeting is held the following morning. All meetings are free to attend and open to all SPRI Members and invited guests. The annual conference is held in January and includes task force meetings, an annual business update, a Board of Directors Meeting, team building activity, a day of industry focused speakers and a keynote presentation. This year, the annual conference is being held from January 18 – 20 at the Loews Ventana Canyon Resort in Tucson, AZ.