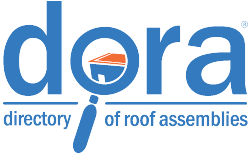 It's challenging to specify the right materials and assemblies for a roof system to satisfy a building's specific performance and safety requirements. Legacy resources for finding relevant assemblies are limited in scope, functionality, and are disconnected from the system-supplying companies.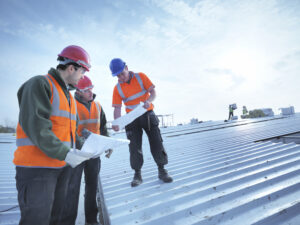 The Directory of Roof Assemblies (DORA®) (www.dora-directory.com) is a database of roof systems tested in accordance with standards referenced in Chapter 15 of the International Building Code (IBC). This service lists wind uplift load capacity on single ply and modified bitumen roof systems.
DORA® was built by the roofing industry for the roofing industry. Convenient searchable parameters for roof assemblies include manufacturers, performance values, assembly composition, assembly order, component attributes, and installation practices. DORA® assemblies are uncluttered, comprehensive, and may be viewed, downloaded, printed, and allocated to the user's project library. Since public launch in 2018, DORA® has grown to over 3,600 assemblies from 11 industry-leading manufacturers, with over 300 new assemblies in the past two months.
10 Reasons to Use DORA®
Roof decks and constructions not available in other directories

Intuitive searching, including a real-time counter of search results

Project management and collaboration tools

Saved searches and notification alerts

Roof assemblies are independently tested and validated

No erroneous products or constructions – assemblies are entered directly by manufactures

Assemblies stay relevant through scheduled verification and review

Assemblies show revision date and historical versions are retained

Mobile-friendly design

Ability to request an assembly not yet in the database
Differences between RoofNav and DORA®
Other databases are owned and operated by insurance and testing companies and only provide access to specific products and assemblies that specific those companies have tested and approved. Since assembly listings and content are owned by the test agency they are subject to modification independent from the product manufacturers. They also only list assemblies or testing that is required by that specific agency or firm and lack other options that meet building code in many areas.
DORA® is a web databased owned by SPRI (www.spri.org) and independently administered by Intertek (www.intertek.com). Products and assemblies are owned and entered by the actual product manufacturers. Roof assemblies in DORA® have been tested by accredited labs and independently validated. DORA® assemblies may be used on non-FM insured buildings.
About Us
SPRI is a collection of commercial roofing industry experts dedicated to providing an open forum for discussion, education, and innovation. SPRI selected Intertek, a global provider of assurance, testing, inspection, and certification solutions to build and administer the program.