How Does DORA Work?
DORA works through the voluntary participation of industry companies. All roof assemblies are submitted by participating companies and are accompanied by supporting documentation in the form of test reports and qualified evaluations.
DORA accepts supporting documentation from any qualified accredited laboratory or certification body. All supporting documentation is independently validated before entering DORA. All roof assembly submissions are reviewed and independently verified by the Program Administrator before being published to the website.
DORA is sponsored by SPRI and administered by Intertek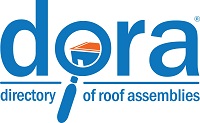 Why use?
Steel, concrete, wood, cementitious fiber, gypsum and panelized concrete roof decks
Latest advancements in intuitive searching techniques to find assemblies meeting your specific design criteria
Robust project management and collaboration tools
Saved searches and optional email notifications for new assemblies meeting your specifications
No erroneous assemblies or products
Mobile-friendly
Free to public